Architecture
The Arrowhead Framework technology architecture is based on the concept of local clouds that consist of system of systems. The following descriptions will detail the local cloud concept: starting with the description of the Arrowhead Framework documentation model. Next come the descriptions of the three mandatory core systems and their services: how and application system should interact with these.
ARROWHEAD FRAMEWORK LOCAL CLOUD
Arrowhead Framework has established the local cloud concept to meet automation system requirements regarding:
Real time properties
Security and safety
Engineering of automation functionalites
A local cloud is defined as a closed group of industrial things within a physical proximity. The local cloud always provides a number of basic core services enabling fundamental service-oriented properties like service registration, service discovery, authentication and authorisation plus the orchestration of system of systems.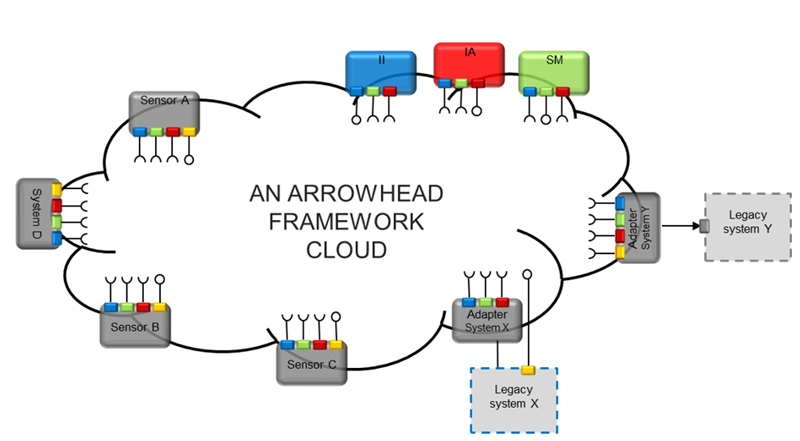 Additionally, a local cloud can provide other, supporting core services enabling various properties that are in the interest of building automation systems. Examples are:
Plant description service
Deployment service
Configuration service
QoS management services
Data retention, data management service
Event handling services, etc.
Please see the generic SoSD describes how to design an Arrowhead Framework local cloud and how the Core Systems works and are used by Application Systems.
DEFINITIONS
he following definitions are used extensively when describing and discussing the Arrowhead Framework:
Service: a Service is what is used to exchange information between the providing system (see System) to the consumer system.
it is based on a number of service orientation principles
the interface be realized by an arbitrary number of service producers and service consumers
a system can consume a number of services, process and provide other services to fulfil a more complex task autonomously
can only be provided by technical systems
can support operational activities within business processes
can support non-functional requirements, such as real-time requirements
can have stakeholders, with an interest in business benefit, in one or more specific area of interest
can have an appointed stakeholder, responsible for the governance of the Service (definition, development)
System: A System is what is providing and/or consuming services. A System can be the Service Provider of one or more services; and at the same time the Service Consumer of one or more other services. It normally includes software executing on hardware (i.e. device). A system can be user interface display, used to control the air-conditioning within a house, but is can also be a small temperature sensor that complies with the Arrowhead Framework.
System-of-Systems: System-of-Systems can be very large and can include many internal Systems that communicate using the Arrowhead Framework technologies or are based on legacy technologies.
An more complete list of definitions can be found in the Arrowhead definitions.
THE ARROWHEAD FRAMEWORK DOCUMENTATION MODEL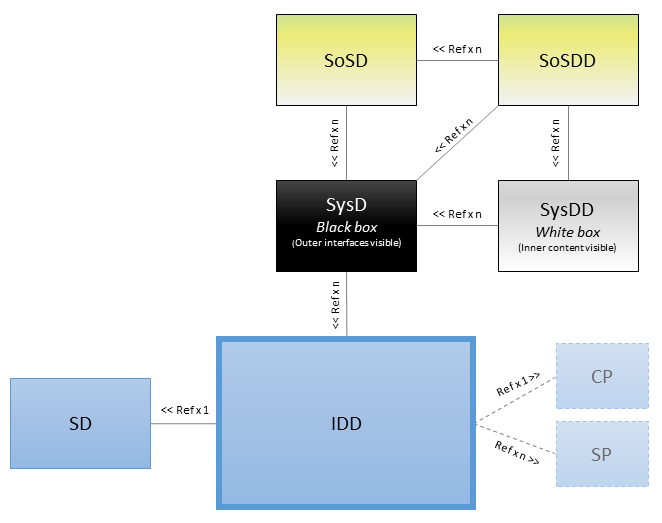 MANDATORY CORE SERVICES AND SYSTEMS

To establish an Arrowhead Framework local cloud three mandatory core systems are required. These are:
The ServiceRegistry system
Enables a service provider to publish its service instance(s)
Enables a service consumer find(discover) what service instance(s) it is interested in consuming.
Enables a service provider to determine what consumer(s) to accept.
Enables remote control (orchestration) of which service instance(s) a consumer shall consume.
APPLICATION SERVICES AND SYSTEMS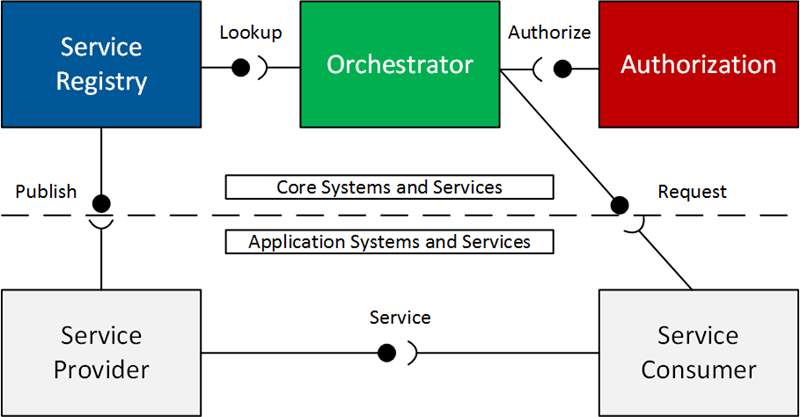 The IDD gives the Service Providers and Consumers a common understanding of the service they use, in detail, so that it can be implemented without misunderstandings. Here are the used avalible Application services.
Application Systems are systems that need to exchange application infomation by providing and/or consuming application services, in order to achive their desired functionality. For more detailes please refer to:
The governance of the developed application services happen during the bi-weekly development telcos. Please join to get help planning your adaptations.
---
---
---